4th Annual GrowRIVERSIDE Conference: Grow With Us!
Thursday, March 30, 8:00 PM to 5:30 PM at Tom Vi Zapara School of Business, La Sierra University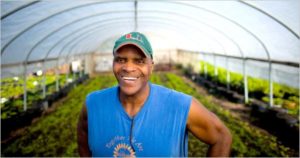 Keynote Speaker Will Allen
Learn with 14 sessions through four tracks.
Explore career opportunities through two student programs.
Network with regional food systems stakeholders.
About Will Allen: After a brief career in professional basketball and a number of years in corporate marketing at Proctor Gamble, Will Allen returned to his roots as a farmer. Using his retirement package to purchase a plot of inner-city land with greenhouses, he has built the country's pre-eminent urban farm and is transforming the cultivation, production, and delivery of healthy foods to underserved urban populations.
4th Annual Citrus Circle Farm-to-Fork Dinner
Thursday, March 30, 6:30 PM to 9:00 PM
Grab your fork and knife, the Citrus Circle Farm-to-Fork Dinner is back!  Food and drinks are sponsored by local farmers.  Enjoy an evening of entertainment, food, and drinks.  Seating is limited, and this event will sell out.  Buy your ticket today!  This is a fundraiser dinner where the proceeds support the GrowRIVERSIDE conference.
Riverside Farms Tour
Friday, March 31, 8:30 AM to 5:00 PM
Join us for a one-day tour of the innovative, urban farms in Riverside, Corona, and Temecula. Tour sites include:
First Step Greenhouses
Temecula Olive Oil Company
Temecula Wine Country Tour
Corona Farms
Greenbelt Tour
Speakers
• Alyssa Houtby, California Citrus Mutual
• Arthur Levine, Huerta del Valle
• Ryan Lesniewski, Radix Ag
• Matthew Hively, Radix Ag
• Randy Bekendam, Amy's Farm in Ontario
• Thom Curry, Temecula Olive Oil Company
• Valery Belloso, ACCION
• Michelle Greenwood, Slow Money Southern California
• Ice Murry, County Executive Director, USDA Farm Service Agency
• Allison Paap, American Ag Credit
• Duane E. Gornicki, Interim Senior Director Residential Dining, UCR
• Kirsten Roloson, Riverside Unified School District Nutrition Services
• Don Webber, Harvest 2U
• Robin Meadows, Health's Kitchen
• Nathan Freeman, City of Riverside
• Cecila Arias, Kaiser Permanente
• Gurumantra Khalsa, Riverside Food Systems Alliance
• Clarke Pauley, CR&R Environmental Services
• Jim Herries, Esri
• Lisa Pierce, City of Riverside
• Josphat Mutunga, Graduate GIS Student, University of Redlands
• Scott Tenney, Bluebird Canyon Farms
• Theo Ferguson, Healing Living Systems
• Mark Van Horn, UC Davis Student Farm Program
• Darryl Wong, UC Santa Cruz Center for Agroecology & Sustainable Food Systems
• Cooper Martin, National League of Cities
Conference Schedule