What is the Riverside Food Hub?


The Riverside Food Hub is a pilot program intended to bring locally grown fresh produce to our community.
Riverside Unified School District (RUSD) received grant funding from the California Department of Food and Agriculture to pilot a food hub. It is the first produce distribution arrangement ever operated by a school district.
RUSD, along with their partners at Riverside University Health System- Public Health and the Nutrition Policy Institute, have created a food hub that buys locally grown seasonal fruits and vegetables and sells them to restaurants, childcare centers, mini produce markets, hospitals and schools that do not have access to these fresh fruits and vegetables.
The Riverside Food Hub provides nutrition education to students in several school districts and in our community.
They're excited to connect the community with fresh, local produce, helping families make informed food choices, strengthening the local economy and bringing the community together.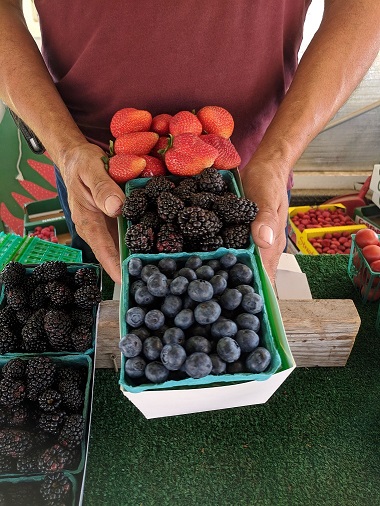 Why Buy Local?
It tastes and looks better.
It is picked at its peak.
Local food is nutritious.
It has a short journey from farm to table.
It allows local families to stay on the land.
Local food builds communities.
It connects the consumer to the grower.
Local food preserves community land.
It benefits the environment and wildlife.
Local food supports local farmers.
Meet the Farmers
Alba's Oranges – Alba Good is a farmer in the Riverside Greenbelt who grows Valencia and navel oranges.
Tarsadia Organic Farm – The Patel family operates a 50-acre organic farm in the Riverside Greenbelt, producing citrus, apples, plums, peaches and other fruits.
Fox Farm – a small urban farm in Riverside that grows fruits and vegetables.
Richard Zapien – an urban farmer with a greenhouse where he grows basil, tomatoes and other vegetables.
Gaytan Family Farm – located in Perris, where they grow a wide variety of vegetables. You will also see them at farmers markets all over Southern California.
Huerta del Valle – Farms a wide variety of fruits and vegetables in Jurupa Valley and Ontario.
Bob and Gary's Farm Stand – located in Murrieta, where they sell strawberries.
The Old Grove – This family farm in Redlands grows oranges on old "grandmother orange trees."
Taylor's Farm Direct – Provides organic and local produce in the Temecula area.
Who Are Hub Customers?
People of all ages can be Hub customers.
In partnership with school districts, restaurants, child care, and hospitals, Riverside Food Hub creates lifelong healthy eaters by providing nutrition information, recipes and delicious produce in meals.
Riverside Food Hub seeks to serve the whole family through fresh, quality produce.
To become a food hub customer, or interested in becoming local farmer vendor, or for more information, please contact  Scott Berndt at [email protected].
Contact
Riverside Food Hub
Riverside Unified School District Nutrition Services
6050 Industrial Avenue
Riverside, CA 92504
(951) 352-6740
[email protected]